Read Time:
2 Minute, 32 Second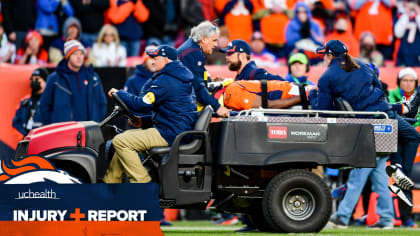 DENVER — Please see below for an updating list of the Broncos' injuries from Denver's Week 15 game against the Bengals.
4:03 p.m. MT: Cornerback Ronald Darby is being evaluated for a possible concussion, the team announced.
4:24 p.m. MT: Quarterback Teddy Bridgewater exited Sunday's game midway through the third quarter after suffering a head injury. After scrambling out of the pocket, Bridgewater was hit as he dove for yardage. But after the play, Bridgewater remained down, clearly immobile. Nearly a dozen members of the medical and training staffs ran out to him on the field and prepared him to be carted off the field.
Bridgewater was taken to the hospital for further evaluation, the team announced. Denver also noted that Bridgewater had mobility in all of his extremities.
POSTGAME UPDATE: After the game, Head Coach Vic Fangio provided a brief update on Bridgewater's status, noting that he'll stay in the hospital through the night as they monitor him further.
"Everything has checked out good up to this point," Fangio said. "They're just going to keep him overnight for observation. But they think he should be and will be fine eventually."
However, Fangio said he did not have enough information to estimate how soon that might be and could not say who the quarterback would be for the next game.
During the time when Bridgewater was down, the stadium was nearly silent. There was a round of "TEDDY" chants that went through the crowd, and when he was able to be carted off, teammates and Bengals players alike went to the cart to give their well wishes.
"It's scary, man, just because earlier in the week you saw it with [Donald] Parham from the Chargers and getting hit in his head and being out cold," Bradley Chubb said. "You kind of saw Teddy laying there, and you wish for the best. … When you see him moving and turning over and moving his hands a little bit, you know he's OK, but it's still traumatizing. It's still sad to see your leader, your quarterback go down like that. We're all behind him, and … at this point, football doesn't matter. His health is the most important."
Justin Simmons echoed those sentiments.
"When you see a guy like Teddy go down, that just hurts, man," Simmons said. "… The first thing is, obviously, I'm going to be praying for Teddy and him as a person and his health. Moving forward, whatever the case may be, we're going to support Drew [Lock] 100 percent and we're going to support Brett [Rypien] 100 percent. That's what it's going to have to be. We can win games. We can win games. It just stinks, man, because we know how much Teddy puts into it. He's such a big voice in our locker room. It hurts, obviously, from a football standpoint. It hurts as a leader. But just from a friend, a guy who invests into you so much, it hurts to see he couldn't finish out the game today."