Read Time:
1 Minute, 19 Second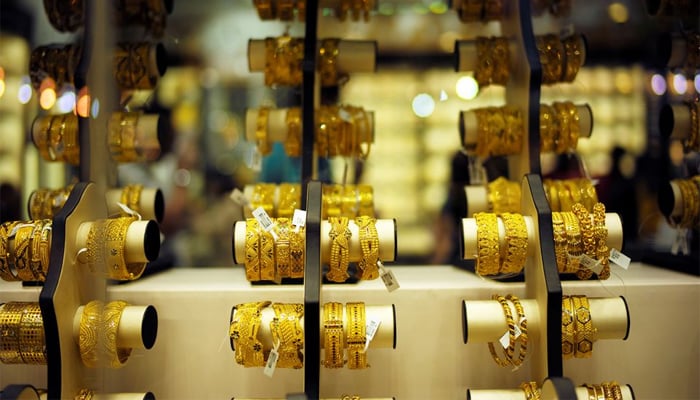 The per tola gold price in Pakistan registered a decrease of Rs200 per tola and Rs 171 per 10 gram to settle at Rs112,500 and Rs96,451 on Friday.
Bullion prices in the international market recorded a decline of $18 per ounce to settle at $1,761, as gold prices were set for a second weekly loss as a firmer dollar dented the metal's allure for holders of other currencies while investors await a key US Federal Reserve meeting for clues on how soon the central bank will start to taper stimulus.
Earlier, speaking to Geo.tv, AA Commodities Director Adnan Agar said: "As the US dollar has started to gain momentum against the world currencies, gold prices have started declining."
Shedding light on the overall gold market performance during the first eight months of the calendar year, the analyst had said that the safe-haven asset has lost its charm, referring to gold as "an old-investment tool."
https://api.ucalc.pro/api/311063?bg_color=transparent&TID=Sl1ZV0FU#https%3A%2F%2Furdu.geo.tv%2Fpdf-data%2Fucal.html
The analyst had predicted the gold market to remain lacklustre for the next four months of the calendar year 2021.
It is pertinent to mention that the gold rates in Pakistan are around Rs3,000 below cost compared to the gold rate in the Dubai market.
Meanwhile, silver prices in the domestic market fell Rs10 per tola and Rs8.57 per 10 grams to close at Rs1,400 per tola and Rs1,200.27 per 10 grams on Friday.