Read Time:
1 Minute, 55 Second
WASHINGTON — The House voted Wednesday to censure Rep. Paul Gosar, R-Ariz., after he posted an animated video that depicted him killing Rep. Alexandria Ocasio-Cortez, D-N.Y., and attacking President Joe Biden.
The House voted 223-207, with two Republicans voting in favor — Adam Kinzinger of Illinois and Liz Cheney of Wyoming.
The resolution also removes Gosar from the two committees he serves on, Oversight and Reform, and Natural Resources.
"The glorification of the suggestion of the killing of a colleague is completely unacceptable," Cheney told reporters Wednesday, "And I think that it's a clear violation of House rules. I think it's a sad day."
Following the vote, Gosar had to stand in the well of the House chamber as Speaker Nancy Pelosi, D-Calif., read the resolution. After expulsion, censure is considered the harshest punishment against a member in the House.
"When a member uses his or her national platform to encourage violence, tragically, people listen to those words and they may act upon them," Pelosi said on the House floor before the vote. "Words spoken by elected officials weigh a ton. People hear them very differently."
She continued: "These threats specifically targeted a woman, a woman of color, which is, as the resolution states, a global phenomenon meant to silence women, to discourage them for seeking positions of authority and participating in public life. Again, this is about workplace harassment and violence against women."
Ocasio-Cortez, a member of the Oversight Committee, said Wednesday that Gosar had not apologized to her.
"What is so hard, what is so hard about saying this is wrong?" she said. "This is not about me. This is not about Rep. Gosar. This is about what we are willing to accept. If you believe that this behavior should not be accepted, then vote yes. It's really that simple."
Democratic members could be seen hugging Ocasio-Cortez on the House floor.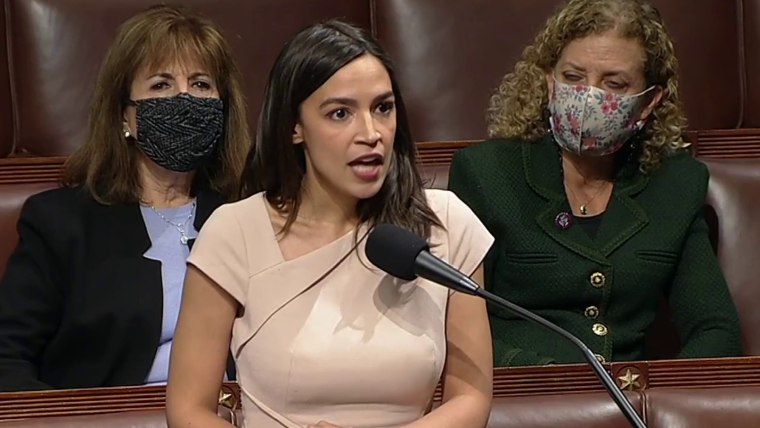 Gosar spoke a few minutes later, denying that his video was intended to be a threat and saying: "I do not espouse violence towards anyone. I never have." He declined to apologize and then compared himself to Alexander Hamilton.
"If I must join Alexander Hamilton, the first person attempted to be censured by this House, so be it. It is done," he said.